LA Summer Homes For Las Vegas Residents

Your Mediterranean Escape
If the idea of spending another summer in Las Vegas makes you break out in a sweat, then it might be time to consider a change of scenery. Our furnished apartments in Brentwood, CA offer a welcome respite from the desert heat, with Mediterranean-style weather that is cooler and more temperate. Plus, our central location means you're never far from the action, whether you're looking for world-class dining, shopping, or entertainment. For those who are only looking for a summer home, we offer shorter leases than traditional apartments. So, if you're ready to say goodbye to the blistering desert sun, come see us in Brentwood. We'll make sure you stay cool all summer long.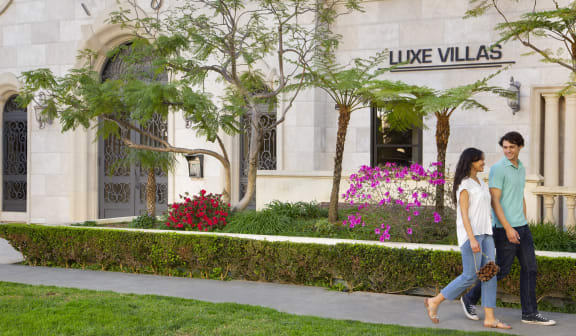 About Our Furnished Apartments

Exquisite Summer Apartments In Brentwood
Our furnished suites are the perfect blend of style and functionality, providing you with everything you need to feel at home. The custom-designed furniture is both stylish and comfortable, while the private balconies (in select suites), offer a sense of privacy and relaxation. Premium Frigidaire appliances make our kitchens a chef's dream and in-unit washers and dryers mean laundry day will never be a burden. With cable, Wi-Fi, and utilities included in the cost of rent, our furnished suites offer incredible value.
Furnished Co-living Apartments in Brentwood, CA
Our furnished co-living apartments offer all the luxury and convenience you need at a fraction of the price of our fully private floor plans. Enjoy a private suite complete with features like a Samsung Smart TV, personal mini fridge, and a private bathroom (in select suites). Plus, our weekly housekeeping service will keep the shared kitchen clean and tidy - freeing up your valuable time to relax and unwind in your personal living space.
Two-bedroom Furnished Apartments
Our two-bedroom furnished apartments are perfect for families, couples, or friends who are looking for a summer getaway. With plenty of space to spread out, our two-bedroom suites come complete with a fully equipped kitchen, cozy bedrooms, and a spacious living area. With all of this and more, you'll have everything you need to relax and enjoy the perfect Southern California summer.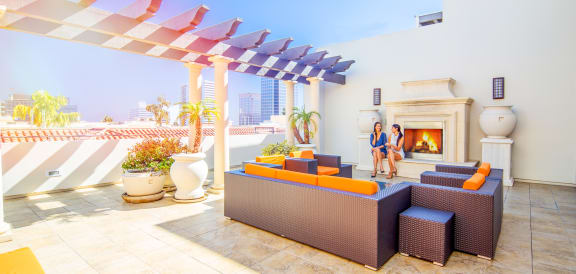 Resort-style Amenities

Luxury Living Beyond Your Suite
At our Brentwood apartments, we offer VIP amenities that will make your life easier and more enjoyable. Our concierge dry cleaning service will take care of your laundry needs, while our controlled access entry and parking will give you peace of mind. Our fitness center will help you stay in shape, and our on-site storage will make it easy to keep your belongings safe and sound. Plus, our rooftop dining seating and lounge with BBQ and firepit are perfect for relaxing or entertaining guests. To top it off, service luggage carts make it easy to move your belongings from your car to your apartment. With all of these perks, you'll be living the good life at our Brentwood apartments.
You Will Love Brentwood
Epitome Of Idealistic LA Living
If you're looking for a place to enjoy the summer sun, Brentwood is the perfect spot. Situated in the heart of Southern California, Brentwood offers easy access to some of the best beaches in the state. Brentwood isn't all about sand and surf though - the town is also home to a number of excellent restaurants, shops, and parks. With average temperatures in the low 80s, you can enjoy all that Brentwood has to offer without worrying about excessive heat. Whether you're looking for a relaxing getaway or an exciting adventure, Brentwood is the perfect place to spend your summer.
Your Brentwood Furnished Apartment Awaits
Stylish Summer Living Comes Second To None
If you're looking for a summer home that is both stylish and comfortable, look no further than our Brentwood furnished apartments. With a variety of floor plans to choose from, we have something for everyone. And our central location means you're never far from the action. So come see us today and let us help you find your perfect summer getaway.