Furnished Brentwood Apartments NMSR

Move-In Ready Rentals
Luxe Villas has both furnished and unfurnished apartments for rent. However, if you are looking for a move-in-ready apartment, we highly recommend that you consider our furnished co-living suites or our furnished two-bedroom apartments. With furniture and home accessories made available upon move-in, all you need to bring are your personal belongings. It doesn't get any more convenient that that! Read on to learn about how our furnished apartments stand out against the rest in Los Angeles.

Incredible Style
At Luxe Villas, our furnished apartments in Brentwood reflect the style and sophistication of the surrounding neighborhood. Every square foot has been carefully considered by our award-winning interior design team, ensuring perfection. From the moment you walk through the door, you'll notice the impeccable attention to detail. Whether you're entertaining friends in your spacious living room or cooking a gourmet meal in your designer kitchen, you'll always feel right at home.
Fantastic Floor Plan Options

Elevated Layouts To Suit Any Lifestyle
Our community offers a variety of floor plans to fit your lifestyle. Whether you're looking for a co-living suite or a two-bedroom furnished apartment, we have the perfect space for you. All of our units feature our signature interior design, thoughtful layouts, and custom-made furnishings, so you'll always feel like you're living in luxury, no matter which layout you choose.
Co-living Suites
If you're looking for a cost-effective floor plan that doesn't sacrifice on style or comfort, our co-living suites are perfect for you. Here, residents enjoy the privacy of their own bedroom, but share common spaces like the kitchen and washer/dryer. Private features include a personal smart TV, mini-fridge, and individual climate control. Weekly housekeeping of common areas isincluded in cost of rent, so you can relax and enjoy your free time. Co-living has never been easier or more stylish than at Luxe Villas.
Two-Bedroom Apartments
For those who desire a little more space, our two-bedroom apartments offer the perfect solution. Here, you'll enjoy all of the amenities of our co-living suites, plus a private second bedroom. Whether you're looking for a place to share with a roommate or need an extra room for guests, our two-bedroom furnished apartments in Brentwood have the turnkey solution you need.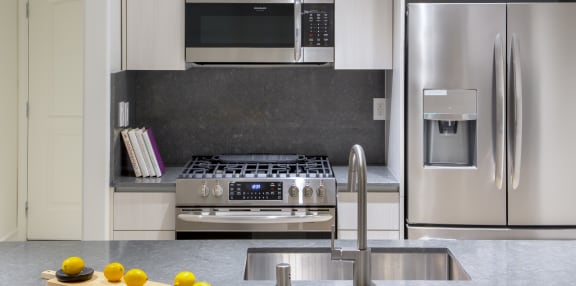 Your Furnished Brentwood Apartment Awaits

The Apartment Search Is Over
Our furnished apartments in Brentwood, CA are designed with your comfort and convenience in mind. From the moment you walk through our doors, you'll feel at home in our spacious and stylish living spaces. With a prime location in one of LA's most desirable neighborhoods, Brentwood is the perfect place to call home. If you're looking for an elevated everyday living experience, explore our furnished Brentwood apartments today and see what NMS Luxe Villas has to offer.