Brentwood Co-living Apartments

If you're looking for an affordable and convenient way to live in the heart of Brentwood, look no further than NMS Luxe Villas. Our luxury co-living apartments come move-in ready with all of the amenities you could ever need, from in-unit laundry to free high-speed internet and utilities. Plus, our prime location can't be beat - we're close to some of the best shopping, dining and nightlife that Los Angeles has to offer. So come and search our suites today; your Brentwood co-living apartment awaits.

Why rent a co-living apartment?
Have you ever wished you could have your own place, but didn't want the hassle or expense of decorating an apartment? Co-living apartments are perfect for people who want the convenience and independence of their own space, without all the fuss. Co-living spaces are ideal for young professionals, students, and anyone else who wants to live in a luxury, furnished Brentwood apartment without spending a fortune.
Co-living Floor Plans
We are very excited to offer modern co-living suites here at NMS Luxe Villas. With layouts ranging in price, space, and privacy, our options cater to the diverse needs of our residents. Whether you are looking for a place to start your career or just want a comfortable place to call home, we have the perfect co-living furnished apartment for you.
Co-living Studio Suites
Looking for an economical co-living option that doesn't skimp on style? Our co-living studio suites are perfect for you. Enjoy a private bedroom and all the perks of shared living, like communal kitchens and common areas, in our most cost-effective layout.
Co-Living Primary Suites
Step up your living situation with our Luxe Villas co-living primary suite. With extra space and designer finishes, this is the perfect floor plan for anyone who wants to elevate their lifestyle. this floor plan is perfect for those who need extra room to stretch out. With a private bedroom, bathroom, and living area, you'll have all the room you need to relax and recharge.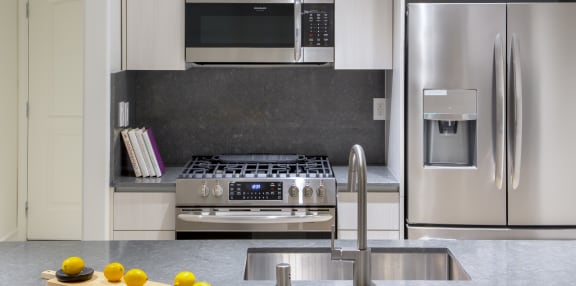 Apartment Amenities
In addition to offering the convenience of co-living, our fully furnished units include top-of-the-line appliances, premium finishes, and custom-designed furnishings. Plus, take advantage of our many luxurious amenities like in-unit washer and dryers, streaming internet and smart TVs, weekly housekeeping of the kitchen, and an in-suite private mini fridge. Stop settling for anything less than the best and come experience luxury living at NMS Luxe Villas.
Resort-style Luxuries
Welcome to NMS Luxe Villas Brentwood, luxury apartments that put the resort in resort-style living. Our community amenities are top-notch and include a fitness center, elevator, resident rooftop lounge with fireplace, and so much more. Enjoy the added security of controlled access parking, bike storage, and package receiving. Plus, our on-site management and maintenance teams are always available to provide you with the quality of service you deserve.
The Best Co-living Apartments In Brentwood
Welcome to the new generation of living. NMS Luxe Villas offers luxury apartments in Brentwood that are perfect for young professionals, students, and singles who desire to live in Brentwood but don't have a lot of money or time to spend on their housing situation. The apartments come move-in ready with all utilities included so you can stress less and focus your energy elsewhere - whether it be work, school or play. Explore our stylish community today.